Voyager Bluetooth Headsets
Wireless Headsets and Headphones
Talk, listen and move about wirelessly
Enjoy legendary sound
Wear it for hours in comfort and style
Poly Works Where You Do
Working from home or back in the office? You need a headset that moves with you. Voyager headsets are ultra comfortable, durable, and provide pro-grade sound. Of course, it can get noisy wherever you work – dogs barking, kitchen appliances, kids, noisy co-workers, phones ringing, cars or wind... Poly's amazing noise canceling Bluetooth headsets guarantee your calls are clear and undisturbed. Beautifully designed, comfortable enough to wear all day, and multiple wearing styles. Perfect for wherever you work.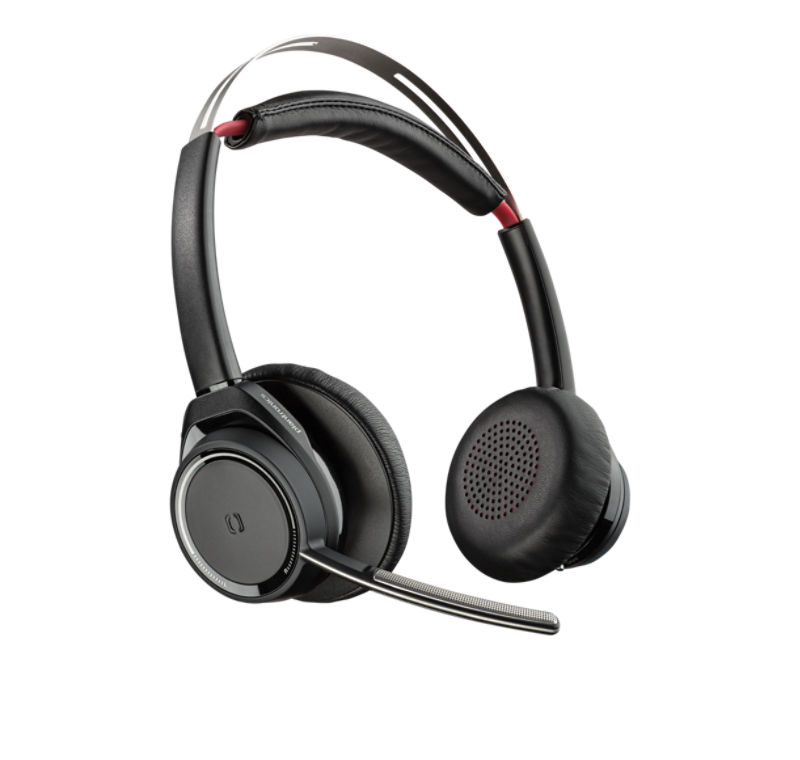 Wireless Freedom
Legendary sound
Range of Wearing styles
Take calls anytime, anywhere. At home, in the office, in the car, walking down the street – be confident you'll stay connected. You can even start a call in your office on a desk phone and simply switch the call to your mobile phone. There's no denying the convenience of seamless Bluetooth technology.
Experience superior Poly acoustic performance—while listening to media and music, collaborating with co-workers, and enjoying your surroundings. Any commotion around you won't disturb the call. Noise-canceling technology blocks out nearby talkers, traffic and sirens—even the sound of wind.
What's your preference? Over the head, covering two ears or one, or more discreet behind the ear or earbud style? The choice is yours. Be confident that all Voyager headsets are designed for ultimate comfort for those days of all-day calls.
Stereo Bluetooth headset

We couldn't build a wall around you to block out background noise, so we did the next best thing: created a "focus zone" with the new Voyager Focus 2 headset. All the Poly next-level engineering you expect with the wear-it-all-day comfort you need.

Stereo Bluetooth Headset

Keep the focus on your conversation, not background noise, with the sophisticated noise canceling and immersive stereo sound of the Plantronics Voyager Focus UC Stereo Bluetooth headset.

Bluetooth Stereo Headset

Whether you work in the office or at home, noisy or quiet, or anywhere in between, we can help make your calls go more smoothly. With a wide selection of award winning headsets, we've put crystal clear audio into incredibly comfortable designs so you can do what you do best.

Bluetooth Neckband Headset

Voyager 6200 UC is a Bluetooth? neckband headset with earbuds that has the versatility to go beyond the office. Transitioning to your next conversation is easy: Connect with colleagues working remotely, listen to music to focus distraction-free or drop an earbud to tune in to the conversation around you. You can count on Voyager 6200 UC for outstanding audio every time.

Voyager 5200 Office and UC Series

Mono Bluetooth? Headset System

In and out of the office? We've got you covered. The Plantronics Voyager 5200 Office and UC headset moves with you. Count on professional-grade sound, no matter where you take the call. Now you can work in any environment on any of your devices, with versatile connectivity and Bluetooth technology. Go get 'em.

Voyager 4200 Office and UC Series

Bluetooth office headset

Options? Oh, yeah. With multiple devices in an open office environment, you need freedom to roam and choose your own calling style. Whether you're on a desk phone, smartphone or computer, Plantronics Voyager 4200 Office and UC Series Bluetooth? headsets make it easy to do more. You can even listen to music between calls. Power up productivity with outstanding audio, freedom and flexibility.
How-to
5 Steps to Choosing Poly Headsets for Remote Working
Learn how to select the rightPoly headset for hybrid and remote working.
Download How-to
White Paper
Poly ANC Whitepaper
Learn about Poly Active Noise Canceling (ANC) Technology.
Download White Paper
Next Steps
Ready to deploy a world-class communications solution? Poly is here to help. Contact us or a certified partner in your area today to get started.